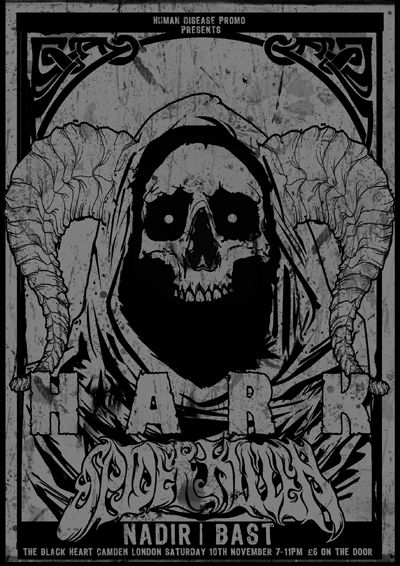 Saturday 10th November
@The Black Heart, Camden
HARK
ex-Taint. think Trouble/Quicksand/Helmet/Kyuss. 7" just released on Super Fi.
http://superfirecords.bandcamp.com/album/mythopoeia-7
SPIDER KITTEN
more former Taint member action. psychy, strung out doom
http://www.facebook.com/spdrkttn
NADIR
new Dead In The Woods band. carries on the psychedelic sludge thing. almost stretches into Gasp levels of craziness. someone else described it as a sludge Les Rallizes Denudes.
http://vimeo.com/37973420
BAST
blackened post-metal
http://www.facebook.com/bastmusic
£6
http://www.facebook.com/events/250816768372192/